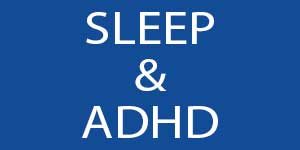 People suffering from ADHD usually have a difficult time shutting their mind and going to sleep in order to wake up fresh and ready to go next morning. This is because of the way their brain functions which makes it harder for it to rest itself at night. Researchers are now starting to find a stronger link between sleep quality and ADHD. A recent article in Attitude Mag by Dr. William Dodson explores this topic further. Take a read at this excerpt from the article which explains why sleep disturbances due to sleep has often been overlooked through the years and why now, researchers are taking a deeper dive into the issue.
Sleep disturbances caused by ADHD have been overlooked for a number of reasons. Sleep problems did not fit neatly into theAmerican Psychiatric Association's Diagnostic and Statistical Manual of Mental Disorders(DSM) requirement that all ADHD symptoms must be present by age 7. Sleep disturbances associated with ADHD generally appear later in life, at around age 12 ½, on average. Consequently, the arbitrary age cutoff has prevented recognition of sleep disturbances in ADHD until recently, when studies of adults have become more common. Just as ADHD does not go away at adolescence, it does not go away at night either. It continues to impair life functioning 24 hours a day.
As you can see, sleep disturbances usually occur later in life which means that during the time of diagnosis which happens  at an earlier age, symptoms of sleep disturbances are not present. With the influx of new studies though, people are now being more aware of the link between ADHD and sleep.
The article goes on to explore the 4 most common sleep disturbances associated with ADHD. One of those disturbances is initiation insomnia. Take a read at the excerpt which explains this disturbance further.
About three-fourths of all adults with ADHD report inability to "shut off my mind so I can fall asleep at night." Many describe themselves as "night owls" who get a burst of energy when the sun goes down. Others report that they feel tired throughout the day, but as soon as the head hits the pillow, the mind clicks on. Their thoughts jump or bounce from one worry to another.
The second most common disturbance is restless sleep. This involves people tossing and turning while sleeping or awaken when hearing a noise in the house.  The third disturbance is difficulty waking up. This usually involves people sleeping through several alarms and not being completely alert until noon. The fourth common disturbance is intrusive sleep. An excerpt from the article explains this particular type of disturbance.
As long as persons with ADHD were interested in or challenged by what they were doing, they did not demonstrate symptoms of the disorder. (This phenomenon is called hyperfocus by some, and is often considered to be an ADHD pattern.) If, on the other hand, an individual with ADHD loses interest in an activity, his nervous system disengages, in search of something more interesting. Sometimes this disengagement is so abrupt as to induce sudden extreme drowsiness, even to the point of falling asleep. Marian Sigurdson, Ph.D., an expert on electroencephalography (EEG) findings in ADHD, reports that brain wave tracings at this time show a sudden intrusion of theta waves into the alpha and beta rhythms of alertness. We all have seen "theta wave intrusion," in the student in the back of the classroom who suddenly crashes to the floor, having "fallen asleep." This was probably someone with ADHD who was losing consciousness due to boredom rather than falling asleep. This syndrome is life-threatening if it occurs while driving, and it is often induced by long-distance driving on straight, monotonous roads.
These are the four most common sleep disturbance found amongst people suffering from ADHD. The article also suggest some very helpful insights into how to get better sleep if you are someone who suffers from one or all of the above sleep disturbances mentioned above. Sleep hygiene plays a big part says Dr. Dodson and that involves using your bed only for sleep and sex and nothing else. You must also have a set bedtime routine and must stick to it. Another quick tip is to avoid naps during the day in order to get proper sleep at night. Therefore, more research has now been done which links sleep to ADHD and there are now medications as well as therapies available to cure sleep disturbances.
We at Disability Credit Canada help Canadian's suffering from ADHD claim disability tax credit. Give us a call to get a free assessment.